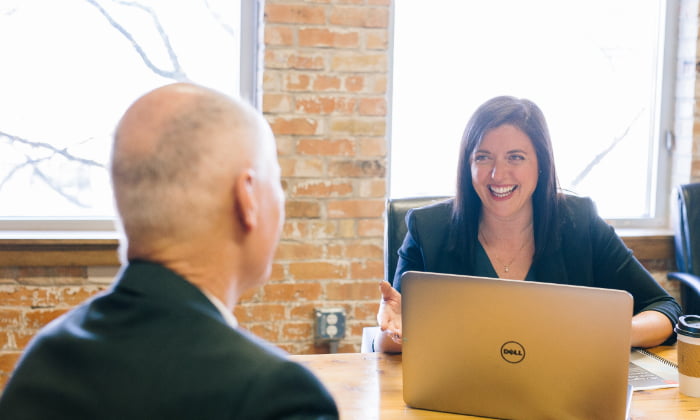 Here's what we'll cover:
If you pick up your phone and scroll through your LinkedIn feed, you're sure to come across an article or two that's related to sales training or sales coaching.
But as you scroll, you're likely to notice an all-too-common problem: The terms "training" and "coaching" are often — and mistakenly — used interchangeably.
While it's understandable why the two terms might get conflated, there are key differences that set them apart and make each uniquely helpful to salespeople.
So let's clear up this confusion together. By diving into their unique purposes, instructional styles, educational settings, and overall goals, we'll be able to get a clear understanding of what makes each of them valuable and effective.
Understanding the Differences in Purpose and Objectives
While both training and coaching exist to provide salespeople with instruction and actionable strategies, there are fundamental differences in the core objectives that they are designed to accomplish.
Sales training: Provides high-level knowledge to help sales professionals understand their environment and succeed.
When new salespeople enter into the field for the first time, or when seasoned veterans move into a new position or new company, the shift can be a little overwhelming.
There are new customers, new territories and competitors, and new hierarchies of leadership to work with.
And to be effective, everyone needs to understand and acclimate to your company's sales practices as quickly as possible.
Here, we find that this is one of the many areas where sales training is distinctly beneficial.
During training, your teams will learn actionable strategies and best practices that will serve them in every type of sales environment. At a high level, this all-around training teaches your team:
How to operate ethically as a salesperson, and why it's beneficial for everyone

How to build trust-based, long-lasting relationships with customers

How to develop the personal and professional traits that create success
Additionally, your teams will also learn how to achieve success specifically within your company, your industry, and with the customers you serve by learning:
How to recognize your customers' needs and expectations, and how to exceed them

Your company's products, sales cycles, and customer buying habits

How to engage prospects confidently and effectively

How to be a student of your company's industry
In this capacity, sales training is both efficient and cost-effective, as you're able to both acclimate your newly-onboarded veteran salespeople and educate newcomers, empowering them to quickly become productive members of your sales team.
And one of the best things about sales training is that it isn't just beneficial to your sales teams.
Every customer-facing role in your company can benefit from it, allowing each department to work more cohesively with your sales team and enabling your entire company to have a unified customer service strategy.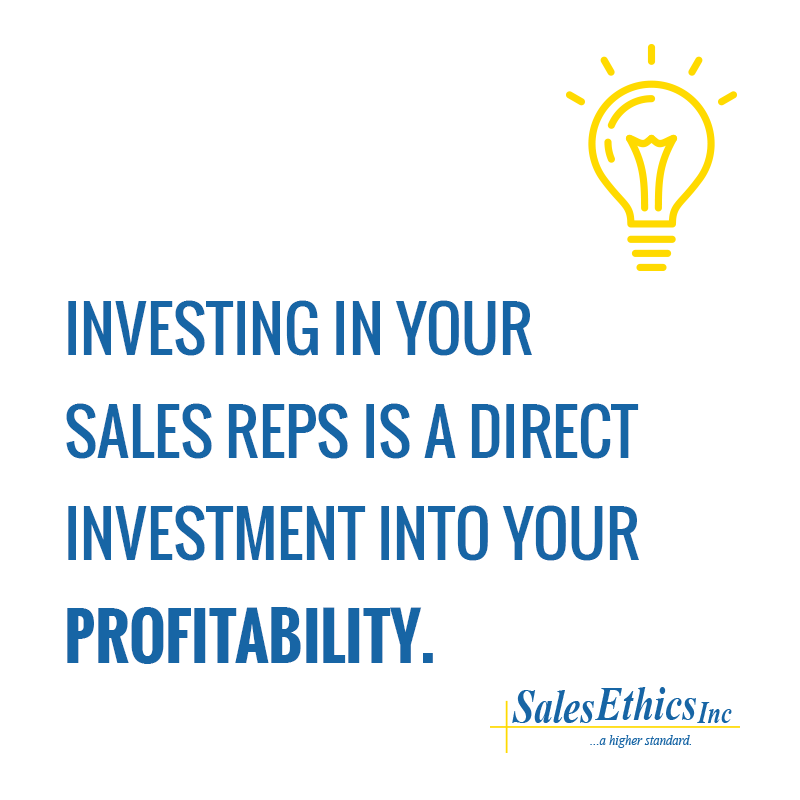 Sales coaching: Helps sales professionals fix specific weaknesses and continually improve on an individual level.
Whereas sales training focuses on developing groups of people, sales coaching is focused on developing the individual and continually improving their overall sales ability.
In this individualized approach, your rep and their coach work closely together, typically in a 1-on-1 environment, to discover what weaknesses might exist and when appropriate, the coach, as an observer, can accompany the rep on a sales call.
While each salesperson has their own strengths and weaknesses, a lot of individual performance is lost due to:
Lackluster lead research, resulting in higher rates of rejection and failure

Poor outreach preparation including call, email, or social outreach

Poor relationship building skills

Ineffective sales pipeline construction

Fundamental weaknesses in general sales processes
Once your sales rep and their coach have identified the key areas of weakness, they forge a development plan designed for steady, measurable success.
With our SalesEthics sales coaching, we go a step above normal coaching programs.
Our coaches schedule regular, one-on-one analysis and correction sessions that not only look at the professional traits and practices that can be improved, but also the personal traits that foster lasting success.
By developing the person in "salesperson," we help your reps become more effective relationship builders who generate higher sales, repeat business, and produce more satisfied customers who advocate for your brand's products and services.
Understanding the Differences in Learning Exercises
Sales is a profession that requires genuine connections, executing at a high level on a daily basis, and the ability to handle frequent rejection.
Needless to say, it's understandable that these job requirements cause many people to shy away from the world of sales.
As with most things in life, the best way to learn how to thrive in sales and develop a confident mindset is to actually do the work and grow outside your comfort zone.
That's why, though by different means, both training and coaching have salespeople learn by doing.
Sales training: Learning exercises impart knowledge that is applicable to many types of sales environments.
One of the goals of sales training is to help your more inexperienced reps become confident in their role.
This is especially applicable for younger Millennials and Generation Z workers, as they are typically averse to sales altogether and have different expectations of their role as a sales representative.
To help introduce them to the realities of sales, performance expectations, and how to build trust-based relationships with customers, effective training programs work through:
Roleplay exercises

Customer resistance and rejection exercises

Examination exercises that highlight personal and professional strengths & weaknesses
Bear in mind: Though sales training exercises are typically designed to impart knowledge that's broadly applicable, effective sales training should always be tailored to the audience receiving it.
Additionally, with quality programs like SalesEthics, training will also familiarize reps with your company's products and services, instilling a foundational belief in how your company helps customers solve their problems.
And that belief is absolutely vital.
Without it, your sales reps can't make a genuine connection between what they're selling, their customer's needs, and the problem that's being solved.
If you try to force your team into faking that connection, it will always come across to customers as disingenuous, nullifying any attempt at building a trust-based relationship.
Sales coaching: Learning exercises come directly from the salesperson's real, day-to-day work with your customers and your industry.
Whereas sales training exercises teach foundational behaviors that are useful to all salespeople, coaching exercises are derived directly from the challenges your individual reps are struggling with, such as:
Difficulty breaking into new territories

Anxiety and poor performance due to call reluctance

Reaching key decision makers by working with gatekeepers

Difficulty working with specific clients and building relationships

General lack of focus or motivation
When working with reps to tackle these issues, quality sales coaches take into account what makes that salesperson unique as an individual and adapt the coaching regimen accordingly.
This deeply personalized approach allows the coaching to have the greatest impact, as it resonates with how that specific salesperson learns and helps highlight areas of personal and professional development that need the most work for that salesperson to succeed in their role.
Understanding the Differences in Environment and Audience
The environment in which people learn has a profound impact on how well they're able to absorb and retain information, as well as how receptive they are to the material as a whole.
In recognition of this, sales training and coaching programs are designed to take advantage of their distinct learning environments, both of which are uniquely valuable and appealing to adult learners.
Sales training: Typically conducted in groups
Sales training, being broadly applicable, is naturally flexible and can be conducted in a variety of group types.
In some instances, it may simply be a group of reps from their sales department. In others, it can be richly diverse, with reps hailing from different industries and professional backgrounds.
Regardless of a training group's makeup, the very fact that it is a group of people is what makes sales training uniquely valuable.
In this group setting, your teams are able to connect not only to their instructor but also to each other, allowing for:
The members of the training group to use one another as resources and draw out knowledge and experiences from each other

Differences of opinion to form, be discussed, and examined in a learning environment — promoting dialog and cooperation within the group
Above all, the group setting promotes exposure to new ways of thinking. While the training curriculum itself is valuable, sometimes the richest insights are those that your reps glean from others in the group.
Sales coaching: Normally in a one-on-one setting with a sales professional
Whereas sales training leverages the power of group dialog and enables students to learn from one another, sales coaching uses the power of a one-on-one environment to create a transformative learning experience.
Working together with their sales coach in a private setting, your rep doesn't have to worry about the thoughts and opinions of others.
This freedom enables them to de-stress, fully embrace their development, and allows them to freely ask questions and explore the setbacks they face without the fear of scrutiny.
And by working with a supportive coach who is truly invested in their success, your rep feels like they have someone in their corner who wants the best for them.
This support, coupled with the insights gained from the coaching, is often just the catalyst needed for your rep to take charge of their development and feel more self-directed both in their sales performance and in their personal life.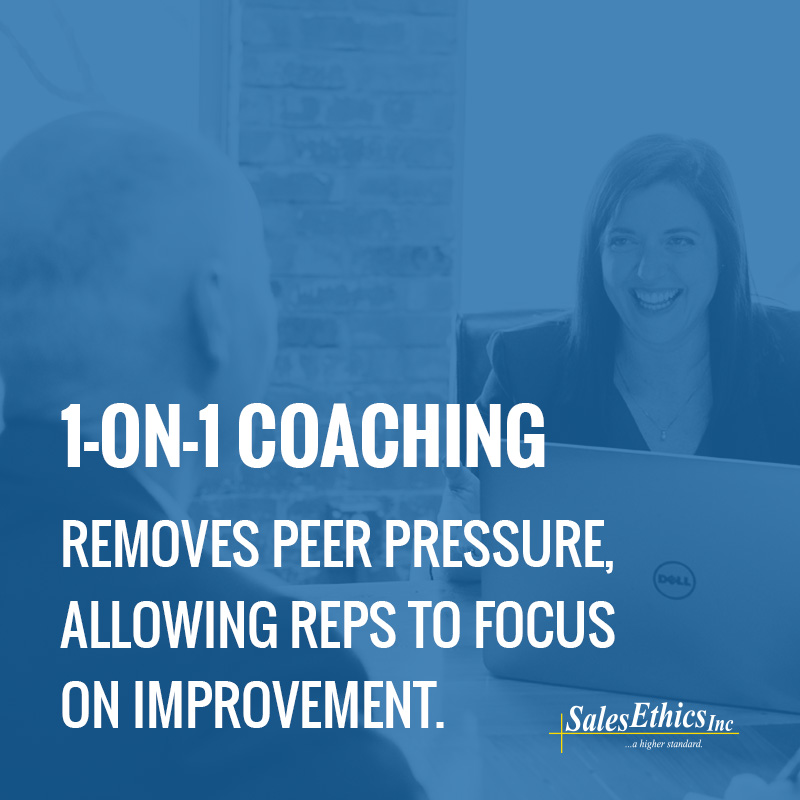 An investment in your workforce. An investment in your bottom line.
Too often, training and coaching are overlooked and treated as an unnecessary expense.
But when ignored, we see the same story play out over and over again:
Without instruction, there is eventually an ever-higher rate of turnover. In turn, this decreases your reps' feelings of security in their job and trust in the company, which elevates stress and inhibits performance, which eventually trickles down to lower customer satisfaction and sales.
Do you see the pattern here?
Put simply, not investing in your reps eventually leads to an extremely vicious cycle of declining performance throughout the company.
But your team, and by extension, your company can be different. Different by setting an example of an ethical culture. Different through training and uplifting your employees, rather than wasting endless time and money throughout the hiring and firing processes.
Time and again, the data shows that quality training has a profound impact on your sales team's ability to perform, your customers' satisfaction, and your company's overall sales.
We've had the honor of helping companies just like yours be different and invest in their sales force's ability to connect with customers and build trust-based relationships. We'd love to have the opportunity to sit down with you, explore your needs, and dare to be different.