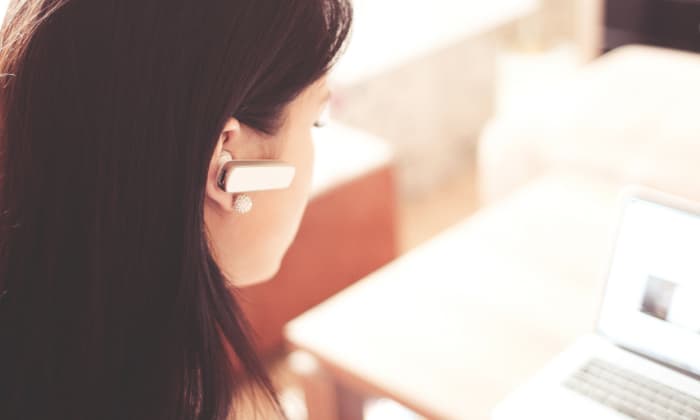 Everyone has a horror story about dealing with a difficult customer service representative. Be it the use of curt and sarcastic tones or receiving the runaround on the phone, people vividly remember how a less-than-satisfactory service rep made them feel.
And the effects of customer service interactions, be they positive or negative, don't stop after the phone is hung up or the chat window closes. Over time, the quality of your customer service has a profound and measurable impact on overall business performance — especially sales.
"When customer needs are exceeded by your service representatives ... your customers gladly place their trust in you."

Tweet
No matter the size of your customer service team, their performance will invariably play a role in your organization's sales success.
In light of this, by understanding what customers expect from your customer service team, how the performance of your representatives' impacts sales, and what traits to look for when building your customer service team, you can provide a customer service experience that supports long-term sales growth.
What Do Customers Expect from Your Customer Service Representatives?
Let's not beat around the bush: Your customers expect a quality customer service experience whenever they come into contact with your company. And if they don't get it, they're not shy about taking their business elsewhere.
As of Salesforce's latest "State of the Connected Consumer" report, 76% of consumers state that it's never been easier to move their business from one brand to another if they don't get the level of customer service they expect.
Let's take a deeper look into what customers expect when interacting with your service representatives and what your organization must do in order to meet their needs.
Customers expect service representatives to be knowledgeable.
Nearly 70% of consumers expect customer service representatives to have knowledge of their contact information, account history, and have an extensive knowledge of the products or service you offer.
Failing to meet this expectation translates directly into lost customers. This is especially true if your target market is between the ages of 18-34, as the younger your target audience is, the more they expect a knowledgeable, multi-channel customer service experience.
Customers expect representatives to meet their needs on the first call.
Without exception, your customers hate their calls or chats being passed to another representative. Nearly 40% of global consumers state that their chief frustration — and the biggest factor that makes or breaks the customer service experience — is being passed around from rep to rep.
With the competitive landscape widening and the ability to transfer their business to your competitors becoming easier every day, first call resolution (FCR) is a pivotal metric that underscores the effectiveness of your customer service department.
Customers expect service representatives to treat them like a real person.
No one likes being treated like just another number on a spreadsheet. And with customer distrust in brands is increasing like never before, failing to personalize your customer's interactions is simply asking for them to run to your competition.
Forrester, a global consumer research firm, doesn't mince words in their latest 2018 customer experience report:
"Customers' expectations will outpace companies' ability to evolve or invent experiences, and the deferred transformation in 2017 means that companies can't adjust fast enough or well enough.
In 2018, 30% of companies will see further declines in [customer experience (CX)] performance, and those declines will translate into a net loss of growth."
In short, no business of any size can afford to treat their customer service quality as an afterthought and failing to provide a quality experience translates directly into bottom-line losses.
Customers expect representatives to provide a seamless and contextualized experience.
Between online chatbots, social media, texts, email, and phone calls there are a plethora of communication options available to your customers.
However different the communication medium, one fact remains: Your customers expect your representatives to have a detailed knowledge of their account history and the unique circumstances of their current problem regardless of what device or platform they use to contact your organization.
When your customers reach out to you, if your service representatives are unaware of the details of their case, it sends a clear message to your customers: The left hand isn't talking to the right in your organization and you don't care enough to fix it.
Customers expect prompt follow-up.
In some cases, first call resolution might not be a possibility. If a customer's problem or request is particularly complicated, it may require that your service rep follows up with them at a later date.
When this follow-up date is established, it's absolutely pivotal that it is met. Even if the issue isn't able to be fully resolved by the time of the next scheduled follow-up, failing to meet that communicative deadline, with at least a status update, can quickly — and sometimes irreparably — erode the trust that customer placed in your brand.
Providing quality customer service is a crucial part of any business's success. By partnering with SalesEthics, you can affordably give your reps the actionable training they need to delight your customers and increase sales.
Let's Increase Sales
Understanding How Effective Customer Service Representatives Impact Sales
When customer needs are exceeded by your service representatives and their problems are quickly and consistently resolved, your customers gladly place their trust in you. And this increased customer trust has a profound impact on your sales team's efforts and your overall bottom line.
They improve customer satisfaction and customer lifetime value.
When your service reps provide customers with quick and helpful solutions to their problems, and your customers feel valued throughout the experience, it reinforces the positive emotions that they relate to interacting with your brand.
This strong, positive relationship with your brand instills a sense of loyalty within your customers, as they know they'll be consistently treated fairly and have their problems solved should any arise.
And this loyalty translates into undeniably higher customer lifetime value (LTV). On average, loyal customers spend more than 10 times that of other customers according to a Harvard Business School study.
They create rich cross-selling and upselling opportunities.
By virtue of creating a personalized customer service experience, your reps are more in tune with each customer's specific needs and goals as well as the fears and stressors they face.
That information, coupled with a keen understanding of your product or service, empowers your representatives to discuss other offerings that could be of further use to your customer.
And with your sales team working closely alongside your customer service representatives, this creates fruitful cross-selling and upselling opportunities for your sales team to pursue.
They lower the cost of customer acquisition and generate new leads.
When empowered by a culture of ethical, customer-first service, the quality of your customer service department becomes a cornerstone of your organization's reputation.
And in our era of personalized customer service being the name of the game, this couldn't be truer, as 92% of consumers form their opinion of a company by the quality of their service interactions. This makes the name that you build for yourself through your customer service a key talking point for your loyal customers — now brand advocates — when they recommend you to others.
In turn, the stalwart brand advocacy you build among your customers, by virtue of your service reps' efforts, helps generate new leads and further lowers the cost of customer acquisition.
What Traits and Skills Make an Effective Customer Service Representative?
Whether you're constructing a brand new customer service team or you're looking to fill the gaps in an existing roster, it's important to understand the character traits and skills that naturally lend themselves to performing well in the customer service role.
By understanding these traits and skills, you can ensure that your new hires will be a productive fit for the demands of customer service.
1. Patience
When your customers contact your customer service department, it's often due to something going wrong. In these moments, your customers are more than likely frustrated and wanting a quick resolution to their problem.
This is where patience shines. A patient service representative who is attentive and actively listens to your customers' problems helps de-escalate the situation and allows everyone to focus on working toward a solution.
2. Knowledge of your product or service and a willingness to learn.
If your customer service representatives lack an in-depth knowledge of each product or service your organization offers, they are incapable of providing a quality service experience.
Should a customer call with a product question or a frustrating issue and be met with an "I'll transfer you," from your service rep, that simply adds on to the frustration in the moment.
Additionally, this makes the customer feel as if your organization is only focused on immediate quick wins and one-time sales rather than supporting the product once it's in their hands.
When your reps possess extensive knowledge of your products, they are able to solve more customer issues on the first call and reduce the number of transfers or call-backs they have to make to bring a customer issue to a close.
This translates into customers knowing they can rely upon you should anything go awry and that they'll always have a quick resolution to any problems they might encounter.
3. Empathy
Your service reps must be able to put themselves within the shoes of the customer. Feeling the customer's pains and frustrations allows representatives to ensure their communication is always delivered with care and concern — especially when it's news that the customer may not like to hear.
4. Clear communication skills
It goes without saying that the customer service role is a communication-heavy role. The communication performed on a day-to-day basis, however, can require the use of many different types of devices or media with representatives helping customers via phone, online chats, email, social media, private messaging, and text.
In light of this, your customer service representatives must command strong written, verbal, and emotional communication skills to ensure your customers feel valued, listened to, and ultimately helped with every interaction regardless of device or communication medium.
5. Adaptability
When a customer calls with a problem that's not covered by your organization's guidelines, or if the customer is experiencing a critical business failure as a result of a fault within your product or service, your reps have to be able to adapt to the situation on the fly.
While no organization can have a plan in place for absolutely every scenario, having an adaptable team of critically-thinking customer service representatives helps promote a calm, solution-oriented presence to the issue at hand.
This helps everyone involved maintain a cool head and lets your customer know that even in the worst of times, you're always right there for them and ready to solve their problems.
6. Tenacity
Though the technology surrounding the role of customer service representative may change, the importance of a steadfast work ethic and a willingness to get things done the right way will never become obsolete.
When you have a service rep who practices customer-first service and refuses to simply follow the status quo when it comes to helping customers, you've got a teammate whose effort delights your customers and keeps them engaged with your company.
This level of extra-mile effort creates tenfold returns through increased customer satisfaction, improved customer lifetime value, and bolstering your brand's reputation.
Winning Customers with Winning Customer Service
Ultimately, the quality of your customer service representatives is determined by your investment in their training and the culture of customer-first service that you create. But finding the time and resources to dedicate to that level of focused training can be difficult, especially as a growing business.
That's where we come in.
By partnering with SalesEthics, you empower every member of your organization — from customer service reps to C-suite executives — to improve sales and build customer trust.
Our initial consultations are always free and our training schedules adapt according to your needs.
Let's work together to build a culture of customer-first service and generate higher sales.
Let's work together to build a culture of customer-first service and generate higher sales.
Let's Work Together